Our "TOAD" is a 2018 Jeep Wrangler Rubicon (JL) with a lot of aftermarket upgrades.  Through the years, we have owned a lot of vehicles (i.e. - Nissan Maxima, Lexus 300ES, Lexus 300GS, Lexus 450 LX, GMC Denali, Chrysler 300, Mercedes 550 CLS, Jeep Wrangler Unlimited JK, Mercedes 300SLK & Chevy Corvette Grand Sport), hands down the Jeep Wrangler Rubicon has been the best vehicle for us thus far.  We are proud to be part of the Jeep family.  The Jeep Wrangler is  great vehicle & is a lot of fun to work on.  As you can see from the picture, Eric has gone a little crazy with all the after market upgrades.  He has mentioned multiple times that our Jeep has been his "therapy".  Working  on the Jeep has helped him transition into retirement by allowing for him to stay busy with projects.  
The Jeep Wrangler is one of the easiest vehicles we have found to set up for flat towing behind an RV.  It takes less than 5 minutes to set the Jeep up.
---
SPECIFICATIONS:
3.6 Liter Engine
 Transmission:  6 Speed Manual
Drive Type:  4 Wheel Drive
Cylinders:  V6
Total Seating:  5 Seats 
 MPG:  17 City /Hwy 23 MPG 
Fuel Range:  365.5 (City) /494.5 Hwy) mi. 
Fuel Tank Capacity: 21.5 gal. 
Horsepower:  285 hp @ 6,400 rpm 
Torque: 260 lb-ft @ 4,800 rpm 
Valves: 24 
Cam Type:  Double overhead cam (DOHC) 
Valve Timing: Variable 
Max Towing Capacity: 3,500 lbs. 
Max Payload Capacity: 892 lbs.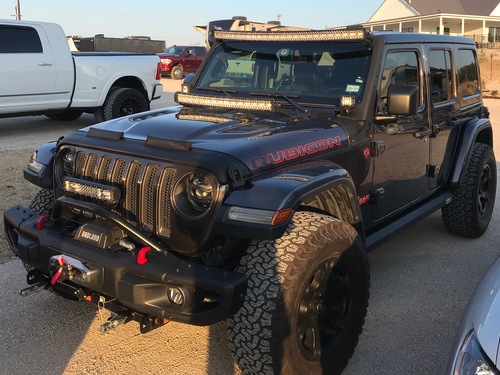 ---
AFTERMARKET UPGRADES:
BF Goodrich  All Terrain T/A (35x12.50x18LT 123 R)
2 1/2 Lift Kit
Badlands APEX 12,000 lbs Winch w/ Synthetic Rope
Rugged Ridge Spartacus Winch Plate
BlueOx BX1139 BasePlate
Foldable Rear Tailgate Door Table
RT-TCZ Interior Cargo Rack
Supree Front Hood Lift / Support Struts
RT-TCZ Engine Hood Bra
LED Light Bar 52"/32"/15" with Hood Mount
Danti Tailgate Windshield Rear Glass Lift Gate Dome Ligh
Rugged Ridge Roof Rack
"You are never too old to set another goal or to dream a new dream" - C.S. Lewis