In the Fall of 2020, after surviving  the year of COVID-19, we made the decision that it was time to start the process of looking for our next Class A motor coach.  The high-rise apartment we were renting in  Uptown Dallas was coming up for renewal.  We had to make a decision on whether to sign another 12-month lease and continue to kick the preverbial "Can Down The Road" or pull the trigger & purchase a Class A motor coach & transition to living full-time in an RV.  We had talked about going full-time for several years, but never pulled the trigger.   We knew we wanted another Class A & was leaning heavily toward purchasing another Newmar.  We had previously owned a 2015 Newmar Dutchstar (4369) & loved the quality of Newmar's workmanship.  We knew this time around we were going to upgrade & get a larger / more luxurious coach like either a Newmar Essex or King Are.  
While surfing on the internet one night in late 2020, I found a used 2016 Newell Coach that was priced really low.  The following weekend, we packed up the car & drove to Miami, Ok from Dallas, TX to look at the coach.  Long story short, the coach was a disaster.  The floor plan was designed for tailgating & was poorly layout for full-time living.   It only had one toilet off the master bedroom & no place to fit a clothes washer / dryer.   This coach had more built -in wine cabinets than Hugh Hefner's wine cellar.  Not to mention the decor looked like a brothel.  The finishes were really bad.  The coach would have been a full "gut & replace" to make it work for us.
On our way home from Miami, we decided that we would plan a trip to the 2021 Tampa Super Show, which is where we ended up putting a deposit down to purchase "Big Bleu", our new 2022 Foretravel Realm Presidential.  We took delivery of our new Foretravel in August 2021 & have been living full-time since.  The step in our journey is to officially  retire & hit the road to "Chase-The-Dream".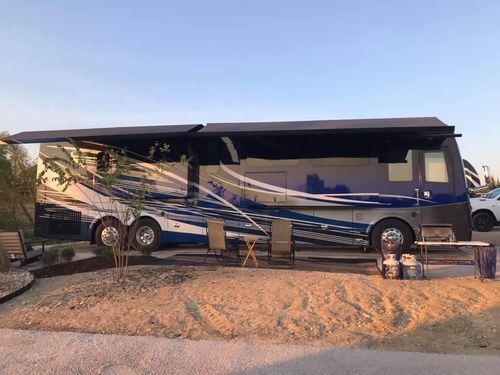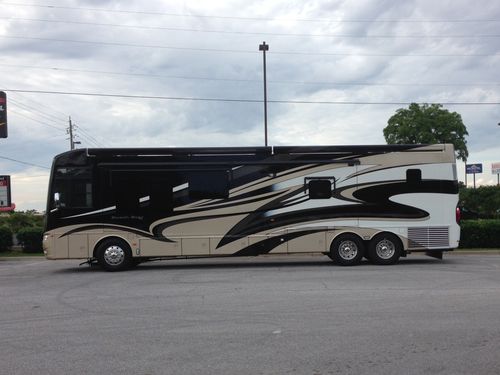 CHASSIS FEATURES  
45' Approximate Overall Length    
K4 Spartan Chassis   
Cummins X15 605 HP Engine   
Peak HP 605 @ 1,800 RPM   
 Allison 6 Speed Transmission MH 4000   
 Peak Torque 1,950 ft/lbs. @1,200 RPM   
Cummins Connected Diagnostics   
Valid Air Suspension w/ VDC Control   
HWH Four Point Hydraulic Leveling Jack System   
Spartan Safe Haul   
Three Stage Engine Brake with On/ Off Switch with Control Lever   
ABS Anti-Lock Braking System with Automatic Slack Adjusters   
Electronic Suspension Control System w/ Self Leveling Feature   
Air Disc Brakes on all Wheels   
Air Hose for Tire Service   
Air line with Quick Connect   
Alcoa Aluminum Wheels with Dura-Bright Protection on All Aluminum Wheels   
Alternator - 270-amp: Leece-Neville   
Automatic Traction Control (ATC)   
Auxiliary 12V Air Compressor   
Fuel Filter / Water Separator   
Front Axle - IFS (Independent Front Suspension)   
Rear Axle Ratio: 4.30:1   
New Passive Steer Tag Axle with 17 Degree Turning Radius   
20,000-lb. Towing Capacity/ 2,000-lb. Hitch Tongue with 7/4-Pin Plug   
Michelin Tires:  Front 365/ 70R 22.5"   Rear 315/ 80R 22.5"   
3 Year Spartan Scheduled Maintenance Included   
No Deductible 24/7 Roadside Assistance First 3 Years  
SAFETY 
All Coaches Built to RVIA Specifications  
Rear Escape Door with Integrated Ladder  
Spartan Advanced Protection System:  
Collision Mitigation with Adaptive Cruise Control and Active Braking  
Electronic Stability Control Automatically Brakes Individual Coach Wheels to Help Drivers Maintain Control During Extreme Steering Maneuvers.  
Automatic Traction Control (ATC)  
Spartan Safe Haul™ The Industry's Only Chassis Integrated Air Braking System for Tow Vehicles to Supply Optimal Braking Performance.  
Auto Headlights  
Illuminated Entry-Door Assist Handle  
Daytime Running Lights  
Tyron® Bead‐Lock Tire Blowout Protection (Front Tires)  
Valor TPMS Tire Pressure Monitoring System with Display Integrated on Digital Dash  
Fire and Carbon Monoxide:  
Fog-Maker Engine Fire Suppression System  
Rear Exit Door  
Fire Extinguishers  
Carbon Monoxide Detector  
Smoke Detector  
Cameras (7 Total):  
Bird's Eye View 360 Camera System  
Total Vision Back-Up Camera  
Integrated on Side Mirrors  
Mobile Eye Collision Avoidance and Lane Departure Technology with Intelligent High Beam Control  
*Vorad Blind Spotter (4 Total)  
Cameras Displayed on Passenger Monitor  
Haptic Warning System on Driver Chair  
Three GFI Protected Circuits  
Electronic Safe  
Security System with Keyless Entry  
Electric Storage Door Locks  
Back-up Alarm 107 decibels  
CSA Approved / Transport Canada Approved 
CAPACITIES AND MEASUREMENTS 
Fresh Water     127 Gallons 
Gray Tank         115 Gallons  
Black Tank       56 Gallons   
Fuel Tank          200 Gallons   
DEF Tank           15  Gallons   
Interior Height    84" / 87" in  
Exterior Height   13'2"  
Wheelbase           316"  
CHASSIS RATINGS 
GVWR:                    54,000 lb.   
Front GAWR:        20,000 lb.   
Rear GAWR:         20,000 lb.   
Tag GAWR:           14,000 lb.   
GCWR:                   74,000 lb.   
WARRANTY 
Coach:                 2 Yr/24K Miles   
Chassis:              5 Yr/75K Miles   
Engine:               5 Yr/100k Miles   
Transmission:  5 Yr/200k Miles   
Chassis Frame: 20 Yr